We're delighted to welcome Kevin McQuillan to our Development Land Team as a graduate surveyor.
We asked Kevin to do a little Q&A so you could get to know him a little better.
Why did you decide to follow a career path in property:
The influence that the property market has on the wider economy has always interested me so I wanted to see how it works day to day.
Tell us a little about your career journey to date:
I have just graduated from TU Dublin with a degree in Property Economics. I worked in Knight Frank previously as part of my third year work placement and it's great to be back!
What do you enjoy most about your role? Development appraisals and dissecting planning documents.
What's the most unusual or interesting job you had?
This summer I volunteered to work in a hostel in Prague and got to explore some of central Europe while I was at it!
Tell us a joke?
If you give a man a duck he'll eat for a day, but if you teach a man to duck he'll avoid high flying objects
How do you spend your spare time?
I play hurling for Na Gaeil Óga, an all Irish speaking GAA club, so tá fáilte leat Gaeilge a labhairt liom!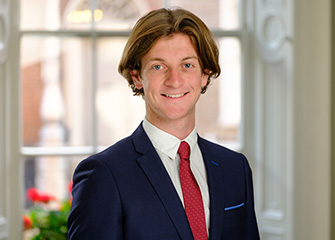 You're having a dinner with 3 famous people, who?
David McWilliams, Blindboy Boatclub, Yotam Ottolenghi
What's your favourite film/book?
Film: Back to the Future, Book: On The Road by Jack Kerouac
If you had to eat one meal forever what would it be?
Anything with eggs!
3 words to describe your first impressions of Knight Frank?
Exciting, Innovative, Enjoyable
Kevin McQuillan is a graduate surveyor within our Development Land department.