Listen back to our First Time Buyers Webinar. Our panel provided insights on financial options available for first time buyers, styling your home on a budget, a market update and more.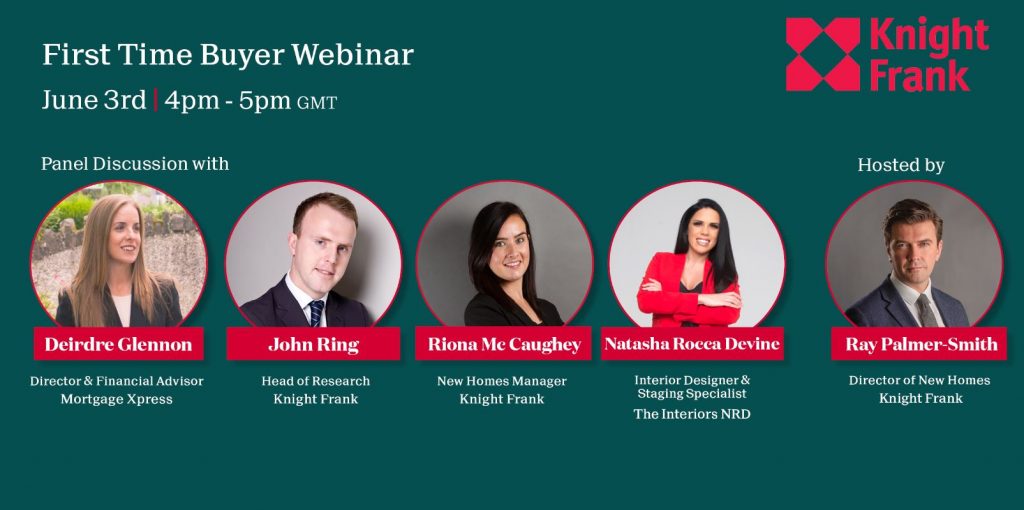 We have summarised our Top 10 Tips  for First Time Buyers from the webinar below.
1. Residential prices have remained flat, nationally they increased 1% on Year to March & residential prices in Dublin increased .6% on Year to March
2. There is a lack of supply of homes in the market and it has been estimated that we need to produce 30,000 – 35,000 per annum to meet demand. Last year 21,000 homes were built which was 2/3's below what is required but one of the strongest years in output.
3. Banks are open for business! If you are in a position to apply for a mortgage now is the time to do so, you can receive your approval in principle document in as little as 2-3 working days.
4. If you have been placed on the income subsidy scheme the bank will still assess you on your full salary but you cannot move forward to full loan offer until your income returns to normal. If you have had a salary reduction or you have been placed onto the covid19 payment you will be assessed on this basis.
5. A handy website to check your credit rating is The Central Credit Register and it is free to use.
6. For the foreseeable future there will be no more "open viewings" and all viewings must be pre-booked. New protocols must be adhered to which are; a maximum of 2 people per party, no children under the age of 16, ensure to maintain 2 metre distance, hand sanitizing upon entering and exiting show-homes and time limits on appointments.
7. Make use of virtual tours – these are 1 on 1 time with the agent where you can ask as many questions as you would like and there are no limits on who can view.
8. Research is key! Daft.ie & MyHome.ie are excellent portals that have hundreds of homes. If there is a specific area you are interested in check out local shops, restaurants, local amenities, schools etc
9. Budget – set out a budget and try stick to it but be realistic with what you can afford. The budget can be long term e.g. 5 years of what you hope to achieve.
10. Invest money in items that are fixed e.g flooring and tiling – furniture is interchangeable. Don't take lighting for granted start with that, paint and then furniture.
You can view the webinar by clicking here.