Ray Palmer-Smith, Director of New Homes talks us through his new hobbies and how he is embracing technology to keep his working day to day the same.
Where are you in Lockdown?
I'm in Blackrock so (relatively speaking) even with the 2km restriction we considered ourselves lucky having the park, shopping and the beach all in very close by!
Have you become a Masterchef during Covid and if so what have you been cooking?
Cooking has always been my thing since I was young. When we lived in New York people thought I was weird because we didn't just eat out every night and I liked to cook. I have resisted baking the lockdown banana bread that everyone seems to be making though! We have mostly been trying to be healthy.
Have you taken up any new hobbies?
We did the knight frank steps challenge which got me obsessed with YouTube step videos and HIIT classes.
Do you have any tips on staying focused and motivated during this time?
Number one tip is communication.
With the new homes team we ALL get on a video chat at 9am each day. We get to plan the day ahead and also check in on the previous day and overnight activity and it leads into the day of client calls, video tours, strategy updates and sales progressions.
Working remotely can actually be just as efficient as all being in the same room if you embrace it and doing it right!
What have been your go-to lock-down TV shows?
I have a few but Ozark, Dead To Me & Normal People.
How has your day to day work changed over the last few weeks?
We have actually been exceptionally busy and I "see" my whole team several times a day. Apart from working from home my day to day has been very similar.
The biggest change has been projects where construction has been held, but that's easing now and we're excited to be launching several ground-breaking new developments over the summer!
If there could be any positive to take from the pandemic, what would it be?
My two decades work in the property industry in a variety of countries has taught me that you need to be able to adapt to anything. Those who embrace the change and see it as a challenge are always the people you should try to work with!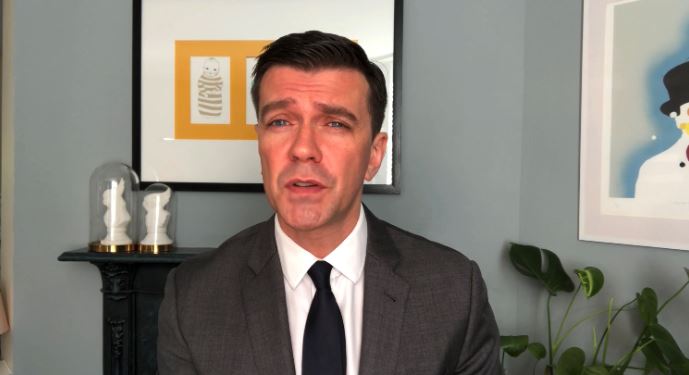 – Ray Plamer-Smith on a video call with a client