Spring has officially sprung with daffodils in abundance and the evenings noticeably getting brighter. If you are looking to revamp your garden this year and are looking for some ideas and tips then this article is for you! We sat down with Kathryn Payne from LandArt to explore the top landscaping and gardening trends to expect in 2023!
Wellness Gardens & Sanctuary
There is a growing acknowledgement that our gardens & time outdoors can be instrumental in aiding mental health and general wellbeing. Think yoga decks, water features, outdoor showers, swim spas and water features.
These elements help us to carve out calm & restful areas in our outdoor spaces. Selected planting ensures a soothing backdrop to these garden features; lush tropical planting creates a quiet & tranquil environment.
Creating Privacy
Privacy is essential to creating your Outdoor Sanctuary. Screening trees, espaliers & hedging ensure there is no intrusion on your privacy. You may consider evergreens like laurel or bamboo which provide all year round screening.
If you prefer deciduous trees, beech trees can also provide great screening in the winter. A water feature ensures that the noise of the world and hustle of everyday life recedes.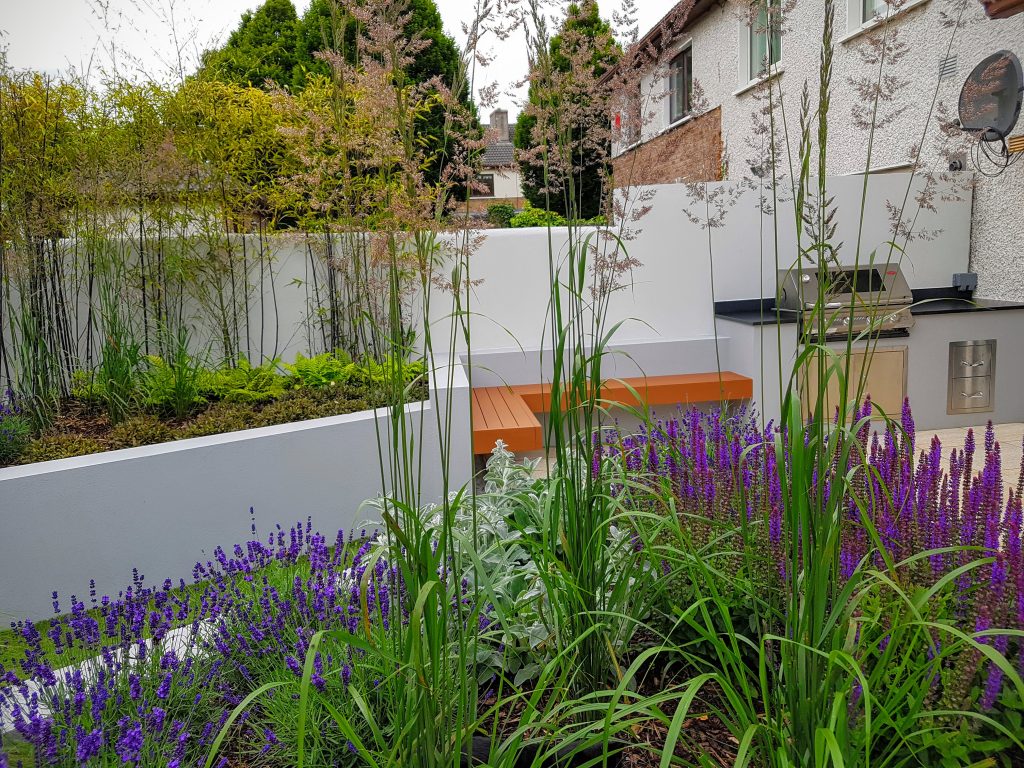 Multi-Tasking Spaces
By having our gardens as multi-tasking spaces it allows us to bring indoor activities outdoors. A good design will define zones & proportion your garden space appropriately, providing the solutions for multiple activities.
At LandArt we ensure the design of your outdoor space is based on your needs and lifestyle, with an emphasis on sculpting clearly defined spaces, of distinct function & personality.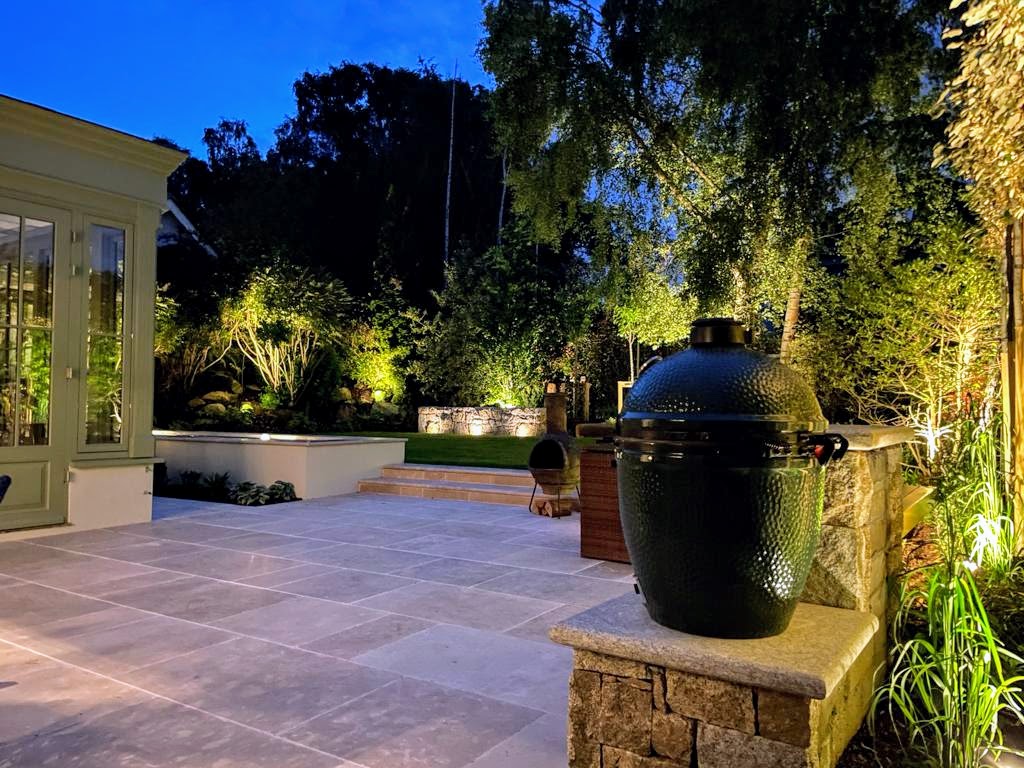 Catching the sun
Correctly orientating your main seating patio is essential, but correctly locating an evening area can be what adds the extra character and use to your garden.
Find the spot that catches the last of the setting sun, enclosing this area, even slightly, can shift the atmosphere & by introducing a fire bowl lengthen the evenings indefinitely.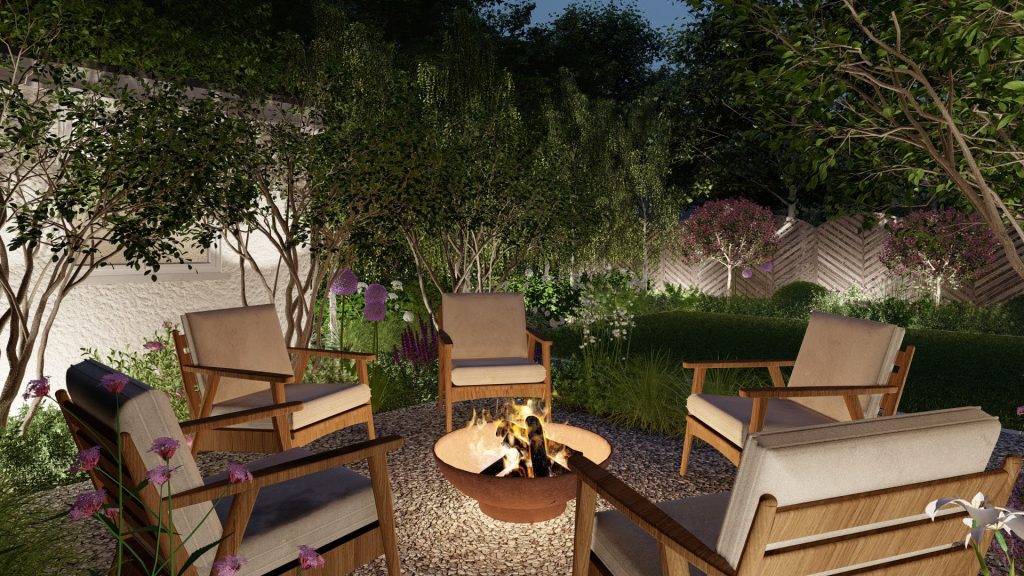 Another room
A dining area is usually in close proximity of the kitchen. However, if you're considering a built-in outdoor kitchen or BBQ area you can create a whole new outdoor space for cooking & entertaining independent of the house. During the summer months you can avail of these outdoor living spaces.
Likewise for garden rooms, when integrated into the garden as part of an overall design & planting layout they can add a whole range of uses to your outdoor space from home offices and secondary sitting rooms to games rooms and gyms.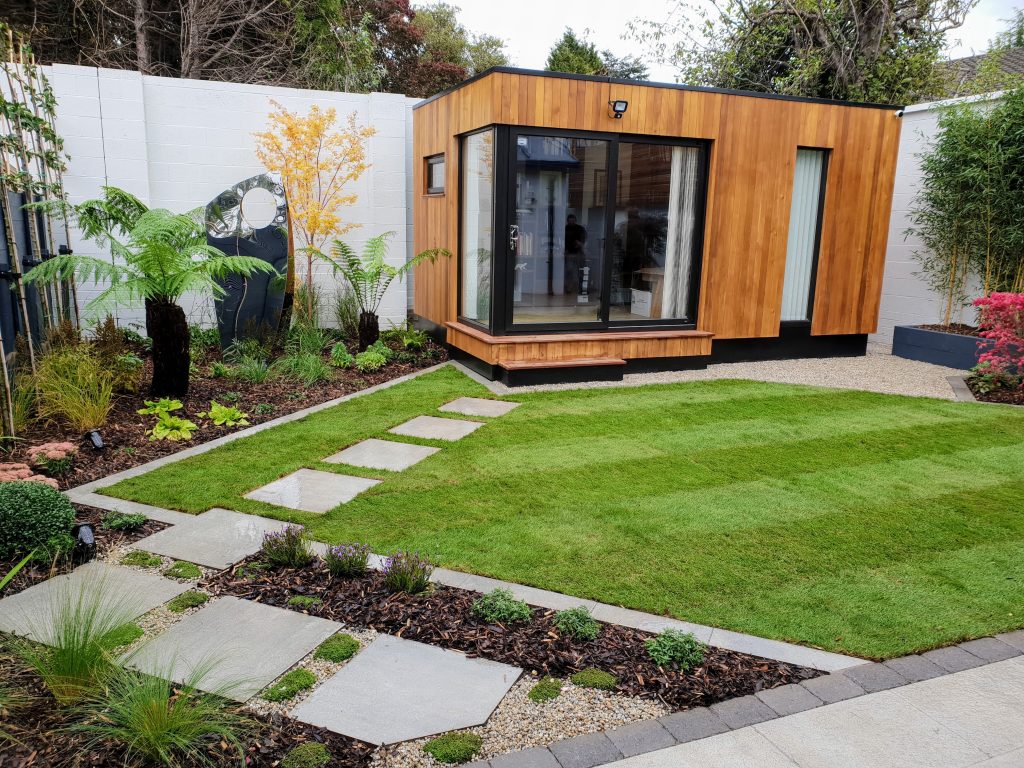 Layering Textures
One of the most striking additions to your planting scheme will be the material choices. This year is all about the Textural & the Tactile.
We have seen a number of years with preference for Porcelain tiling and synthetic materials. Whereas we now see a resurgence in appreciation for Natural Materials. The warm-grainy quality of sandstone slabs, coarse granite cobble or chalky Donegal quartz pebble are coming to the forefront of garden design.
It can be nice to layer shrubs in your garden. Consider blending evergreens with deciduous shrubs. If you are looking to create a garden border, a lovely combination would be a copper beech hedge showing off its deep purple leaves in summer combined with a Buxus hedge as the base.
Imagine an 'all summer' garden. To achieve this, consider mixing in Alliums so there is a nice burst of purple flowers for few weeks in June followed by Limelight Hydrangea.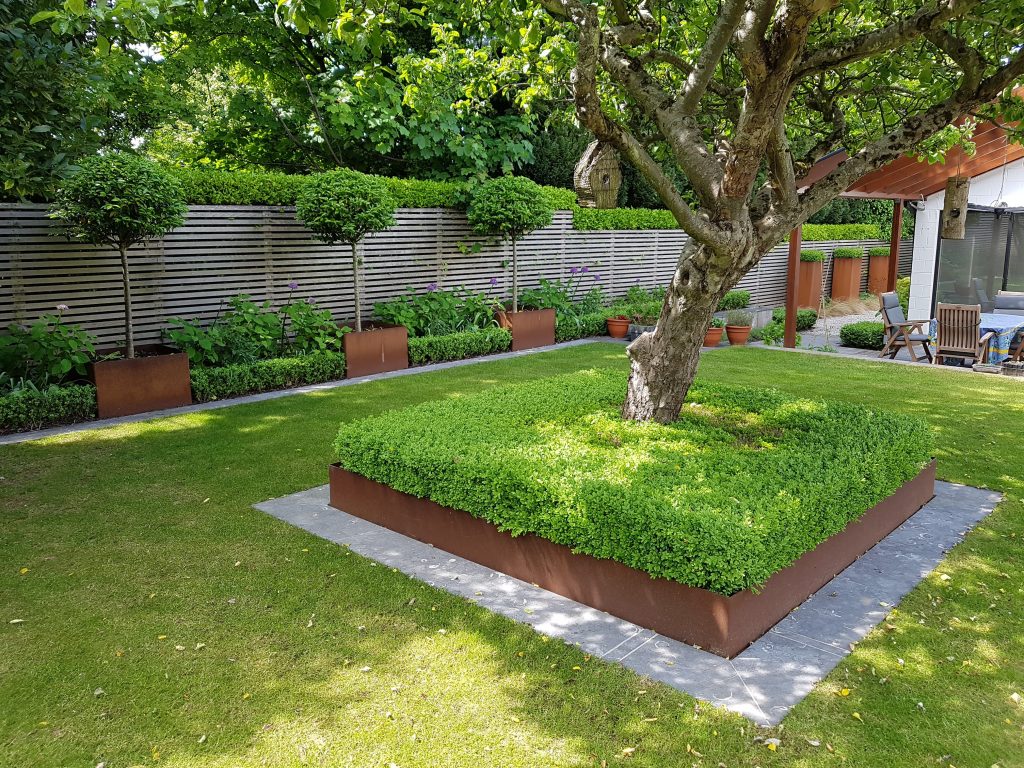 Creating a focal point
The patina of decorative screens, features and lighting fixtures are all in focus. To create a statement focal point, concentrate on richly toned tactile materials, think rust tones & raw textures. Consider:
Corten Steel
Timber & solid furniture
Salvaged materials
Creating a sensory garden
By giving careful consideration to each of the above garden trends you begin to create a Sensory Garden. One that truly involves all your senses and makes sense as a living space; the sight of colourful harmonious planting, rich fragrance for yourself & the bees, the sound of rustling ornamental grasses or flowing water, the sensation of natural textures underfoot or touch of a special water feature and lastly the taste of an edible landscape.