We're delighted to welcome Paul O'Shea as our Head of Property Management Accounts.
We asked Paul to do a little Q&A so you could get to know him a little better.
Tell us a little about your career journey to date:
I started my career journey working for a property developer and worked there for 15 years.
I worked through various positions in the Accounts/Finance department whilst completing my ACCA exams through college in the evening. Following on from that I then worked in the Coombe hospital for a year followed by the Mater Hospital for another year. I then moved to F&C REIT Asset managers who managed the property fund for Friends First and then transferred into Friends first after 2.5 years. I changed from the Property team to Treasury and then Friends First were bought by Aviva 2 years later and was there for another two years before joining Knight Frank.
What do you enjoy most about your role?
Well I'm a numbers guy, so this is an ideal fit for me! I really enjoy working with clients to maximize the return on their investment. The people in Knight Frank have been very welcoming and I'm really enjoying getting to know the team.
What's the most unusual or interesting job you had?
Nothing too exciting I'm afraid
Tell us a joke?
Why did an old man fall in a well? Because he couldn't see that well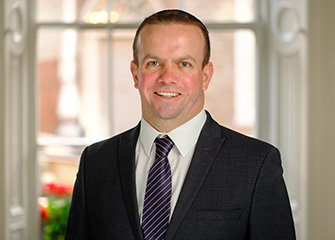 You're having a dinner with 3 famous people, who?
How do you spend your spare time?
Do you follow any sports, if so who are 'your' team?
What's your favourite film/book?
If you had to eat one meal forever what would it be?
If you could learn to do anything, what would it be?
Share a fun fact about you?
3 words to describe your first impressions of Knight Frank?
Roy Keane, Kevin Hart and Barack Obama
Watching sport or playing, Football, Golf
Manchester United, Bohemians and The Dubs
Gladiator / A song of Ice and Fire( Game of Thrones)
Pizza
Fly a helicopter
I've skied the steepest ski slope in Austria
Friendly, Interesting, Professional
Paul O'Shea is Head of Property Management Accounts in our Property Asset Management department.