Tom McNamara has recently joined the Knight Frank team as a Graduate Surveyor in our Office Agency department.
We asked Tom to do a little Q&A so you could get to know him a little better.
Tell us a little about your career journey to date:
I studied in TU Dublin and previously worked in the Hotel and industrial department in Savills before joining Knight Frank
Why did you decide to get in to property?
From a young age I've had a passion and interest in all aspects of property. My interests have evolved over the years from residential to commercial development, design, construction right through to sales and leasing.
What do you enjoy most about your role?
I enjoy the dynamic interaction I have with my department and throughout Knight Frank. No two days are the same as there is a huge variety in my role. I enjoy meeting new people and working on a diverse range of properties.
What's the most unusual or interesting job you had?
Summer job at Lamborghini Vancouver
Tell us a joke?
Why did an old man fall in a well? Because he couldn't see that well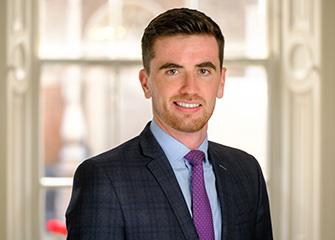 You are having a dinner with 3 famous people, who would you invite?
How do you spend your spare time?
Do you follow any sports, if so who are 'your' team?
What's your favourite film/book?
If you had to eat one meal forever what would it be?
If you could learn to do anything, what would it be?
Share a fun fact about you?
3 words to describe your first impressions of Knight Frank?
Sean Connery, Robin Williams, Margot Robbie
Cycling, Car sales, Hill walking, Out with friends
I'd be an endurance sports fan, cyclist Sam Bennett is the man to follow
Film – Layer Cake
Ravioli / any Italian food really
I would love to pick up guitar or piano
I grew a foot in one year – was six foot in sixth class
Welcoming, Exciting, Fun
Tom McNamara is a Graduate Surveyor in our Office Agency Department.