Dublin Industrial Market Q3 2018:
The latest data from the central statistics office shows that the volume of exports grew by 27% in the year to August. Meanwhile, the latest Investec Manufacturing Purchasing Managers' Index indicates that activity has increased to 57.5 in August, up from 56.1 in comparison to the same period last year.
Occupier activity rebounded strongly in Q3 following a sluggish Q2 with 92,366 sq m transacting – more than double the 43,854 sq m recorded in Q2. This brings take-up for the year to 204,120 sq. m, 18% ahead of the corresponding period in 2017. Lettings accounted for 66% of take-up compared to 34% for sales.
Q3 Largest Transaction
The increase can be explained by the completion of a number of large transactions, reflected in the fact that there were three deals greater than 10,000 sq.m (or 47% of take-up) – there were no deals in excess of this in Q2. The largest transaction of Q3 was the sale of the 20,425 sq.m former Lufthansa Technik site on the Naas Road which had been on the market since 2014.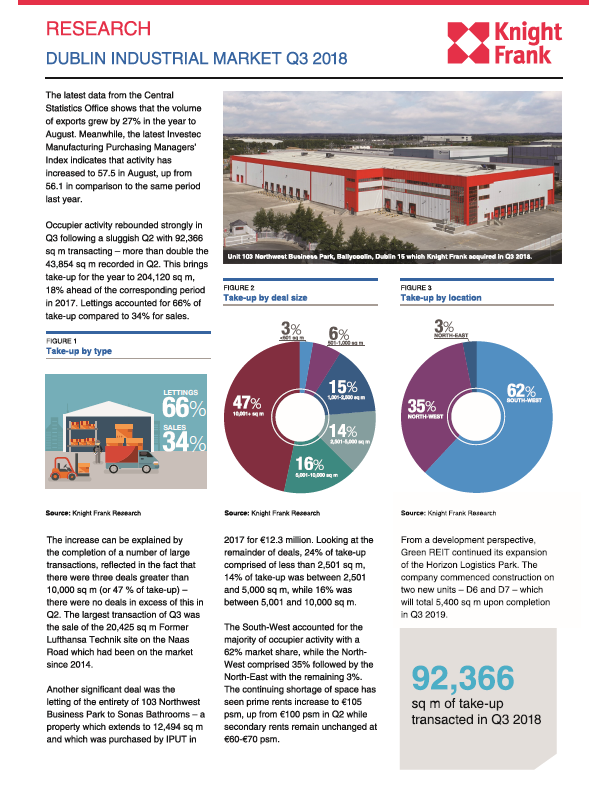 Another significant deal was the letting of the entirety of the 103 Northwest Business Park to Sonas Bathrooms – a property which extends to 12,494 sq m and which was purchased by IPUT in 2017 for €12.3 million. Looking at the remainder of deals, 24% of take-up comprised of less than 2, 501 and 5,000 sq m, while 16% was between 5,001 and 10,000 sq m. The South-West accounted for the majority of occupier activity with a 62% market share. The North-West comprised 35% followed by the North-East with the remaining 3%.
The continuing shortage of space has seen prime rents increase to €105 psm, up from €100 psm in Q2. Secondary rents remian unchanges at €60 – €70 psm.