Dublin Office Market Q1 2019 Report Summary:
57,000 new jobs expected to be created in Ireland in 2019 according to the ESRI.
1.4 million sq ft of office space was let in Q1, 85% ahead of the same quarter last year.
48% of the office development pipeline in 2019 is already let, with 45% of expected 2020 delivery also taken.
€278.1 million worth of office investment transactions changed hands in Dublin during Q1.
With a vacancy rate of just 3.1%, Sandyford is seeing heightened development activity.
Overview
2019 gets off to a strong start as 1.4 million sq ft of office space transacted in Q1, setting a new bar for occupier activity in an opening quarter of a year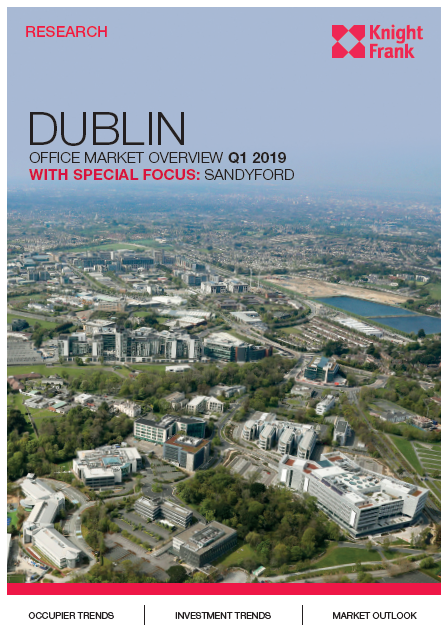 Economy: In their Spring Quarterly Economic Commentary, the ESRI have revised Ireland's real GDP forecast for 2019 to 3.8% from the 4.2% contained within the Winter edition. The downgrade is a result of greater uncertainty in the international environment. This is arising from a deteriorating outlook for Ireland's key trading partners.
In February, the Bank of England cut their growth forecast for the UK to 1.2% – down from 1.7% in November. While in March the Federal Reserve cut the US growth outlook to 2.1% from 2.3% in December. Also during March, the European Central Bank reported that the euro area economy is likely to expand by just 1.1% this year, down from the 1.7% forecast in December.
While the relative strength of the Irish economy vis-à-vis its main trading partners is clear, the big caveat to this baseline scenario is that it assumes the avoidance of a no-deal Brexit. Modelling undertaken by the ESRI has estimated that a disorderly no-deal Brexit would reduce growth to 1.2% this year. Although the subsequent announcement of a six-month extension to the Brexit deadline has largely kicked this risk down the road for now. The ESRI baseline scenario is forecasting that 57,000 new jobs will be added to the economy this year which will continue to underwrite strong occupier demand for office space.