Dublin Office Market Q2 2018 Summary
Take-up, new construction and investment volumes all continue to trend higher, underpinned by record employment growth in Dublin.
Dublin sees its highest level of jobs growth on record.
Revision to unemployment estimate brings economy firmly into full employment territory.
Take-up for the first six months of the year amounted to 1.65m sq ft, in-line with the same period last year.
Commercial investment volumes reached €1.9 billion in the first six months of the year, which is already ahead of the ten-year annual average of €1.8 billion.
Dublin's lettings market is 78% more valuable than the Manchester, Birmingham and Edinburgh markets combined
Overview: Special Focus – Placing the Dublin Office Market in a European Context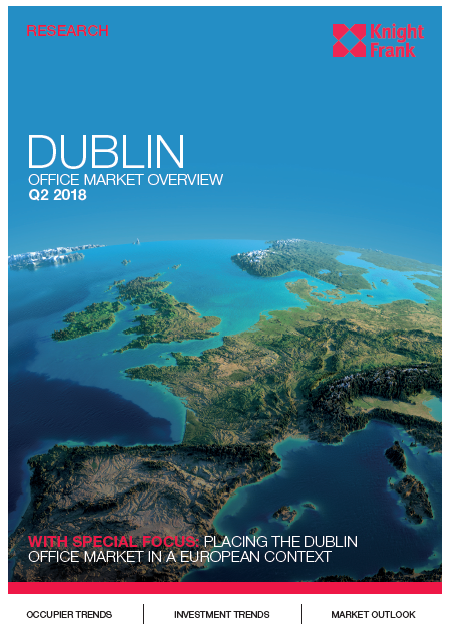 Dublin's high rents can be explained by the strongly performing economy – Ireland is fastest growing in Europe – combined with the lack of new supply over the last number of years. And while they are undoubtedly high from a European perspective, they are still less than half the prevailing headline level of the London market.

Ultimately, the sustainability of rents rely on the cash flows generated by the underlying tenants that make-up the local occupier market. Dublin is in a fortunate position to have attracted some of the worlds leading companies, who's Dublin presence is often a key part of their global business, such that office rents play a relatively minor importance in directing their strategic decision making.
The interesting question to answer is what strengths Dublin posses that has enabled it to build such an impressive tenant profile? Strengths – by their definition – can only be understood in relation to a competitor.
A SWOT analysis of the respective strengths of the 21 cities would be a worthwhile additional piece of research in itself, but it is well documented that Dublin's success is a function of its competitive corporation tax rate, young and educated population, English speaking workforce, cultural and economic linkages with the United States and common law framework.
Understanding these strengths – and how they are likely to evolve – vis-à-vis the 21 European cities contained within this analysis will determine the performance of the Dublin office market over the long-run. While Pan-European investors may be well accustomed to making these international comparisons as a matter of habit, domestically focused investors would be wise to pay close attention to the dynamics of the European market as they unfold.