Dublin Office Market Q3 2019 Summary:
Ireland is to be the fastest growing economy in Europe for a sixth consecutive year in 2019.
The last six months of take-up were the weakest since 2012. However, the previous six-month period was the strongest on record ever.
1.9 million sq ft is due to be delivered in 2019. This is approximately in-line with the preceding two years when 2.0 million sq ft was completed.
€412.9 million worth of office investment transactions took place in Q3. The majority of these are accounted for by the sales of Five Hanover Quay and Nova Atria
Overview
Weakest consecutive quarters of growth since 2012 set against a mixed economic backdrop.
In their Autumn economic forecast, the European Commission have revised Ireland's real GDP forecast for 2019 to 5.6%, up from the 3.8% contained within the Spring edition. If this proves true, Ireland will be the fastest growing economy in the EU for a sixth consecutive year. Prospects for continued outperformance remain strong with real GDP forecast to be 3.5% and 3.2% for 2020 and 2021 respectively, compared to 1.4% for both of these years for the EU as a whole.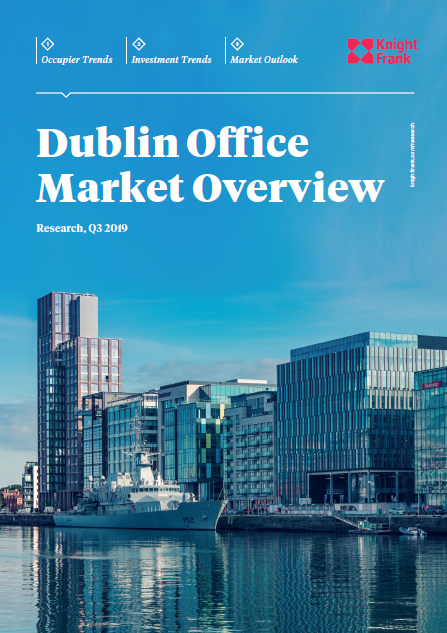 OCCUPIER MARKET
With the 360,000 sq ft that transacted in Q3 being just marginally ahead of the 355,000 sq ft that was achieved in Q2, the Dublin office market has posted the weakest successive quarters of take-up since Q2 and Q3 2012 when 296,000 sq ft and 359,000 sq ft was let respectively.
While it is not a coincidence that this has coincided with a period of greater economic uncertainty, it would also be unwise to place too much emphasis on such a short time period and is countered by the fact that the preceding two quarters (Q1 2019 and Q4 2018) were the strongest ever on record.
Looking ahead to the end of the year, with in excess of one million sq ft currently reserved, full-year take-up for 2019 is on track to surpass the three million sq ft mark which would make it at least the fourth strongest year on record.
Click to read the Dublin Office Market Q3 2019 Report in full.