Knight Frank Dublin Office Market Q2 2021 – Research Update
2021 is set to be a year of remarkable recovery for Ireland and other economies, as pent up demand across all sectors is activated. This will boost office market activity, particularly as companies determine their evolving office requirements.
Take-up in Q2 reached 169,000 sq ft, which while low compared to quarterly take-up achieved pre Covid-19, is a relatively strong performance given the extended lockdown. The level of space reserved, while always a leading indicator of overall activity for any given year, is particularly useful in these unprecedented market conditions. Close to 1 million sq ft of space was reserved at the end of Q2, of which just over 514,000 sq ft was reserved in Q2.
Construction
With construction open again, the challenge of trying to make up for delays in the delivery pipeline will be somewhat compounded by shortages of both materials and labour, which will act as a drag on delivery into 2022. That said, almost 2 million sq ft of space is expected to complete in 2021, 92% of which is in city centre locations. 69% of that space is pre-let, which includes the largest three buildings.
Vacancy Rate
The vacancy rate has edged up further to 10.6%. Space coming to the grey market remained flat in Q2, compared to Q1, having increased considerably over the last year. Normal turnover of space in the market and new space that has not yet been pre-let are the main drivers of vacancy in the market.
Rents are holding firm at €57.50 per sq ft as occupier preference for new or best available space is providing a floor for rents.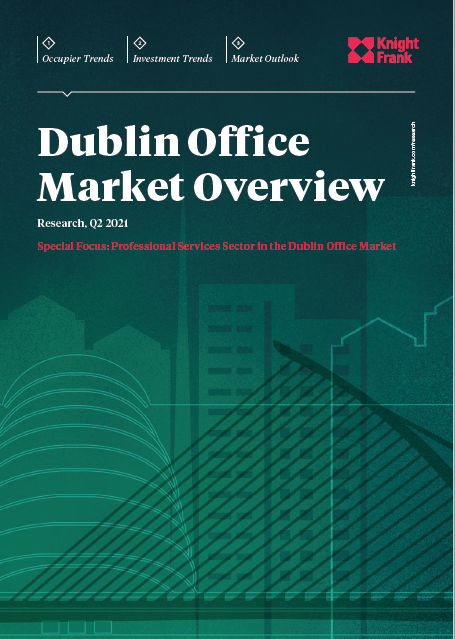 The professional services sector is an important part of Dublin's city office market. Knight Frank Research profiled the office space occupied by twenty-one firms across the legal and accounting/advisory areas within the professional services sector. These companies are largely clustered around two locations within the city – the South and North Docklands being cluster one with the St. Stephen's Green/Harcourt St. and Hatch St. zone, the second cluster. The Top Five accounting/advisory firms make up 44% of the total space occupied by the twenty-one firms profiled in our research. Demand for space from this sector is expected to become increasingly active as some are expected to seek new flagship headquarter office space.
A key challenge for the office market is to assist landlords and occupiers alike in assessing and determining their office model for the future and what type of space they will need as a consequence. This will take time and expert knowledge of the schemes coming to the market and how to align brands to the best space to suit their workforce and adding value to their businesses going forward.
Contact our Office Agency Team or Tenant Representation Team to discuss the findings of the Dublin Office Market Q2 2021 report in more detail.