327,058 sq ft of office space was let in the Dublin market in Q3 bringing the total for the year so far to 1.014m sq ft.
Knight Frank forecast that a total of between 1.3m – 1.5m sq ft will be let in 2023, a tighter, but slightly higher range than forecast at the end of Q2.
Smaller deal sizes continue to be a key feature of office letting activity in 2023. There were no deals greater than 50,000 sq ft and only five deals in excess of 20,000 sq ft.
23% of the space taken in Q3 was located in Dublin 4, with Coimisiún na Meán/BAI's decision to take 20,519 sq ft at One Shelbourne Buildings representing the largest deal in that location.
The overall market vacancy rate increased to 14.3% in Q3, up from 13.4% in Q2. This increase reflects a particular complexity in the market at present whereby an increase in grey market space and a peak in the delivery of new space are creating a one-off spike in the amount of space available, particularly in the City Centre market for occupiers ready to make decisions. When buildings with no sustainability credentials or lower BERs are excluded, the vacancy rate reduces considerably.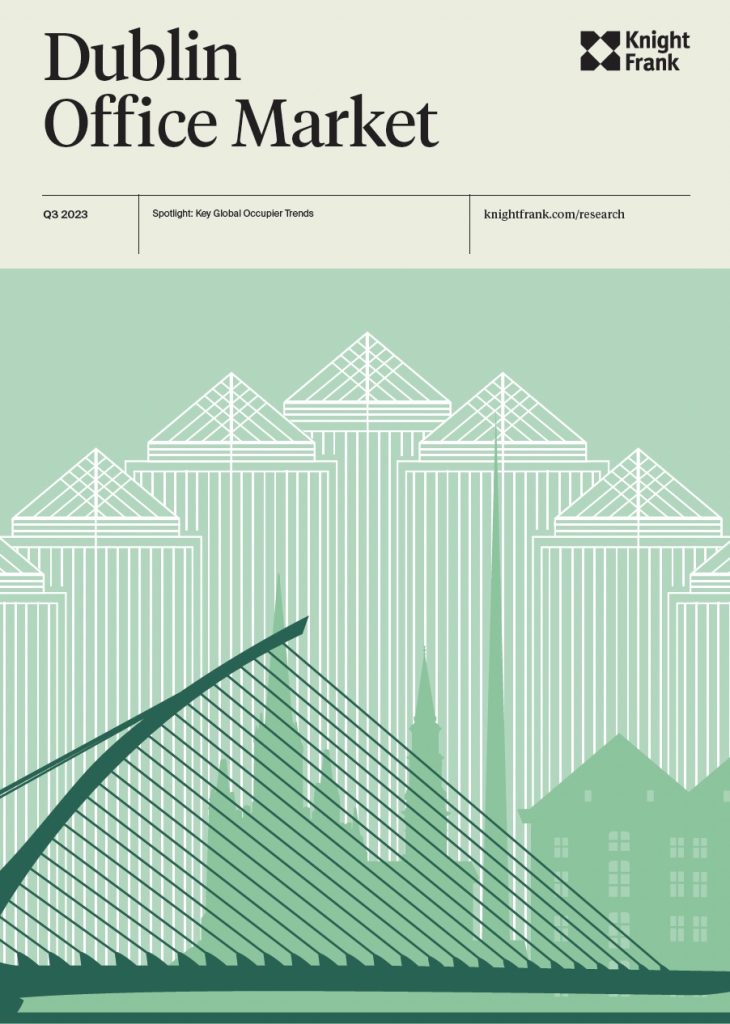 Prime headline rents are achieving in the region €62.50 – €65.00 psf. Rents are expected to end the year closer to €62.50 psf with evidence continuing to suggest that enhanced incentives and rent-free terms will maintain a floor under prime rents close to or at this range.
Total spend on office investment transactions increased in Q3 with €175m trading. French investors have been the most active buyers so far this year, accounting for 60% of the total value of spend and acquiring the larger assets that have come to the market.
Prime office yields continue to come under pressure and are currently estimated to be 5%-5.25% with the low volume of transactions making it difficult to be more exact. This is expected to remain the case into 2024 and mirrors what is happening across European markets.
Joan Henry, Chief Economist & Head of Research, Knight Frank Ireland