Knight Frank's Global Buyer Survey 2021 analyses the impact that Covid-19 has had on residential buyers' attitudes to purchasing homes around the world. The survey, which represents the views of over 900 Knight Frank clients across 49 markets highlights that:
Globally, 19% of respondents have moved house since the start of the pandemic, this rises to 25% in Australasia and North America. Of the non-movers, 20% are more inclined to move in 2021 as the pandemic continues
Cities are back in favour. Out of those respondents who are more inclined to move in the next 12 months, 38% of them are looking at city locations with 33% opting for the suburbs
46% of respondents are more likely to buy a detached home or villa but demand for apartments has increased to 19%, up from 12% in 2020. This reflects an increase in demand for both larger, more spacious apartments, and pieds-a-terre in city centres.
The appetite for ski homes has increased from 11% in 2020 to 18% in 2021 with demand from North American and Asian buyers above the global average
Eighty-four per cent of respondents said that the energy efficiency of a future home is important to them. 28% said they would be more likely to buy an energy efficient home if future environmental regulations were to have a direct impact on its value and around 27% would be willing to pay a premium for a greener, more energy efficient home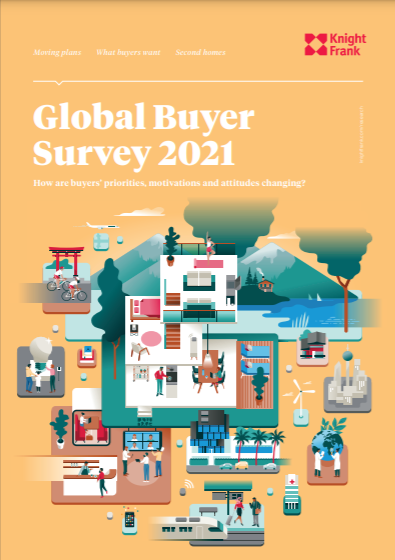 Kate Everett-Allen, head of international residential research at Knight Frank said: "Over two-thirds of people expect the value of their current home to increase in the next year with most expecting a rise of between 1% and 9% over the 12-month period. This coincides with Knight Frank's Prime Global Forecast which highlights that global house prices are, on average likely to increase by 4% in 2021."
Further findings from the report reveal that the pandemic has sparked a wave of second home demand. Some 33% of buyers say they are more likely to purchase a second home as a result of Covid-19, up from 26% last year. Of those looking to buy a second home, 23% say the pandemic has influenced where they want to buy and 22% say it has delayed their purchase plans.
To read the Global Buyer Survey 2021 in full download your copy below: