Industrial Market Insight Q1 2018
The economic fundamentals underpinning the industrial and logistics market remained strong during Q1, supporting occupier demand. Following on from a record setting year for exports in 2017, January saw the highest ever monthly level for outbound trade as €12.4 billion worth of goods were exported (on a seasonally adjusted basis), which
represented a 15% increase on the same month last year.
While exports fell back to €10.9 billion in February, exports were still 6.5% ahead of the same period last year putting 2018 on a good footing to exceed the 2017 record.
Take Up:
67,899 sq m of take-up transacted in Dublin in Q1 in what was a strong start to the year. This figure represents a 23% increase on the volume of activity that was recorded during the same quarter of last year. Of this, lettings accounted for 61% while 39% was comprised of sales.
Looking at the geographical spread of activity across the county, Dublin South-West and Dublin North-West continue to be the most dominant locations, accounting for 85% of take-up in Q1.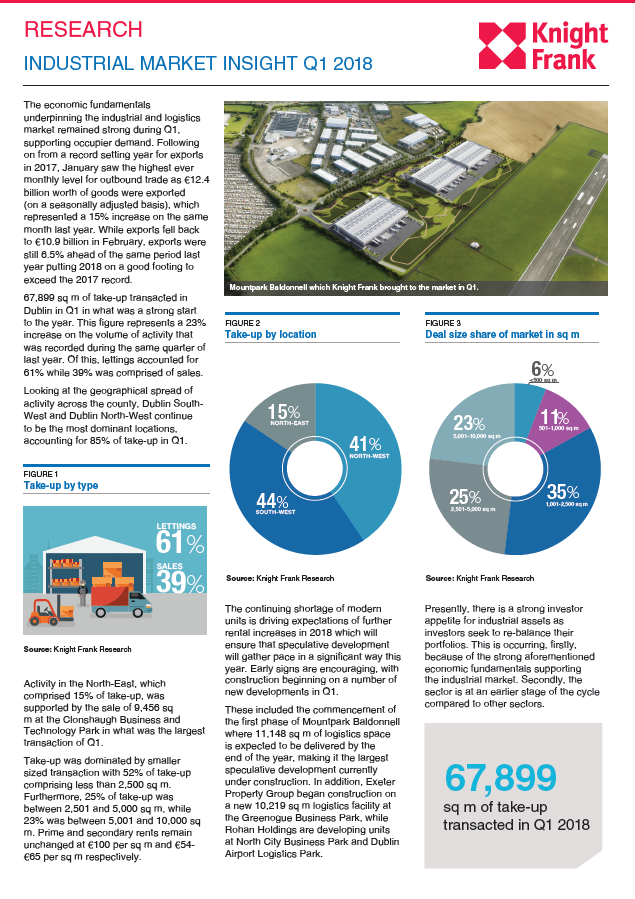 Activity in the North-East, which comprised 15% of take-up, was supported by the sale of 9,456 sq m at the Clonshaugh Business and Technology Park in what was the largest transaction of Q1.
Take-up was dominated by smaller sized transaction with 52% of take-up comprising less than 2,500 sq m. Furthermore, 25% of take-up was between 2,501 and 5,000 sq m, while 23% was between 5,001 and 10,000 sq m. Prime and secondary rents remain unchanged at €100 per sq m and €54- €65 per sq m respectively
Click to read the Industrial Market Insight Q1 2018 Report in full.