Residential Housing Market Update May 2021 with a special focus on the Dublin Market.
Summary:
A shortage of houses on the market, as well as increased demand, is putting upward pressure on prices.
Before the Covid-19 pandemic, the housing market was already very buoyant. Primarily driven by the strength of economic growth and full employment. Price growth however, was relatively steady. This was anchored by low wage inflation and the effectiveness of the Central Bank's mortgage lending rules.
Housing stock on the market at the end of Q1, was close to the low seen in 2014, as lockdown conditions distorted market activity and delayed decisions to sell property.
Demand has intensified considerably with first time buyers. And also with those wishing to trade up to larger family homes remaining the most active buyer categories. Those looking to trade down are also expected to become more active again over the coming months.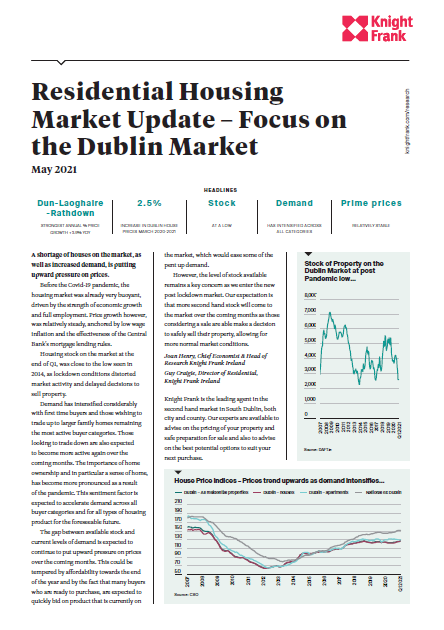 The importance of home ownership and in particular a sense of home, has become more pronounced as a result of the pandemic. This sentiment factor is expected to accelerate demand across all buyer categories and for all types of housing product for the foreseeable future.

The gap between available stock and current levels of demand is expected to continue to put upward pressure on prices over the coming months. This could be tempered by affordability towards the end of the year. And also by the fact that many buyers who are ready to purchase, are expected to quickly bid on product that is currently on the market. This would ease some of the pent up demand. However, the level of stock available remains a key concern as we enter the new post lockdown market.
To read the Residential Housing Market May 2021 report in full please click the link below: