Knight Frank Ski Property Index 2021. The report tracks the movement in price of a four-bedroom chalet across 19 resorts. The resorts are located across the French and Swiss Alps, with the addition this year of the Swiss resort of Champéry.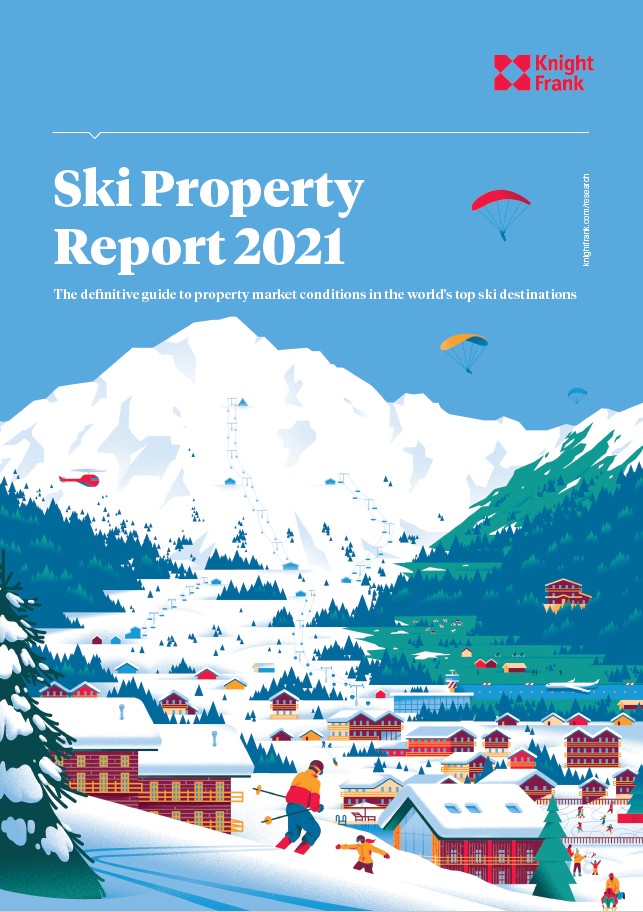 Covid-19 and the resulting lockdowns have significantly disrupted global real estate markets. The ski market has been no exception. Homeowners are revaluating their lifestyles. Working patterns, holiday plans are being upended and rental incomes have been depleted. But, this may also be the year when the health benefits of mountain living are brought into focus. The combination of fresh air, open space, recreational activities, good healthcare and reliable WiFI makes alpine living a great choice. Our three ski markets – France, Switzerland and the US – are an obvious choice for those individuals seeking shelter from the pandemic.
Impact of Covid on prices:

The question is whether we will see a redistribution of value from urban to resort locations as a result of Covid-19. The Knight Frank Ski Index on page 4 gauges what impact the crisis has had on property values to date. And also examines which resorts are displaying greater resilience. The pandemic has meant resorts both side of the pond missed out on their lucrative Easter season. On pages 6-7 we reflect on a rollercoaster few months which saw rental demand recover over the summer as staycationers headed to the mountains.


Clearly, there are challenges ahead in reopening the resorts this season. Our summary of the measures being employed is on page 7. They underline how seriously the resorts are taking their responsibilities. For ski homeowners wanting to stay ahead of the game, we highlight five trends and events that look set to shape the market. 90% of our clients now opting to rent their home, we crunch the numbers to understand what return owners can expect.

A deep dive into Colorado's property market on pages surprises on the upside. With Aspen Snowmass concluding over $2.6bn of sales in the first nine months of 2020. This is up from a total of $1.9bn for the whole of 2019. Finally, we look at the next skiing hotspot. Our local experts provide a roundup of the resorts they think are tipped for growth.
Click the link below to download your copy of the Ski Property Index 2021