Value-add investors will be given a wide selection of Dublin city centre opportunities to pick from as agents Knight Frank launch six mixed-use assets to the market. Five of the six assets are located in some of the most commercially vibrant and varied areas in Dublin 1 with the sixth asset located within the prime Harcourt Street area of Dublin 2. The assets have been brought to market individually and will be sold by way of auction throughout November and December.
The collection offers a broad spectrum for genuine asset management and value enhancement opportunities to include, development projects with full planning permissions, refurbishment, reconfigurations, lease re-gear opportunities and leasing up of vacant units. Existing and permissioned uses within the collection include retail, restaurants, offices, hotel, hostel, residential and pub.
10-11 Eden Quay and 12 Harbour Court, Dublin 1
10-11 Eden Quay and 12 Harbour Court, Dublin 1 comprises a superb waterfront Dublin city centre hotel (30 rooms), bar and night club opportunity. Located on Eden Quay, overlooking the River Liffey close to O'Connell Bridge, the property is ideally located for visitors to Ireland's Capital City. The immediate area offers a wide array of amenities including restaurants, high street shopping, hotels, theatres, museums, bars, and universities.
10 & 11 Eden Quay presents as two, terraced and interconnected commercial buildings extending to approx. 1,788.6 sq.ft. (19,253 sq.ft.). The part 4-storey and 5-storey over basement properties were built c.1917, in the heart of Dublin City Centre and benefits from 13.5 meters of prime river frontage.
No.10 Eden Quay provides independent access to the basement nightclub that spans both properties. The ground and first floor of No.10 comprises of The Clifton Court Bar. No.11 Eden Quay comprises a ground floor bar trading as Lanigan's Bar. Both The Clifton Court Bar and Lanigan's Bar are connected at ground floor. It is understood that the entire has a capacity of 600 pax.
The remaining upper floors of both 10 & 11 consist of a 30-bedroom Hotel, with a mix of single, double and triple en-suite bedrooms, reception, kitchen and breakfast lounge/bar.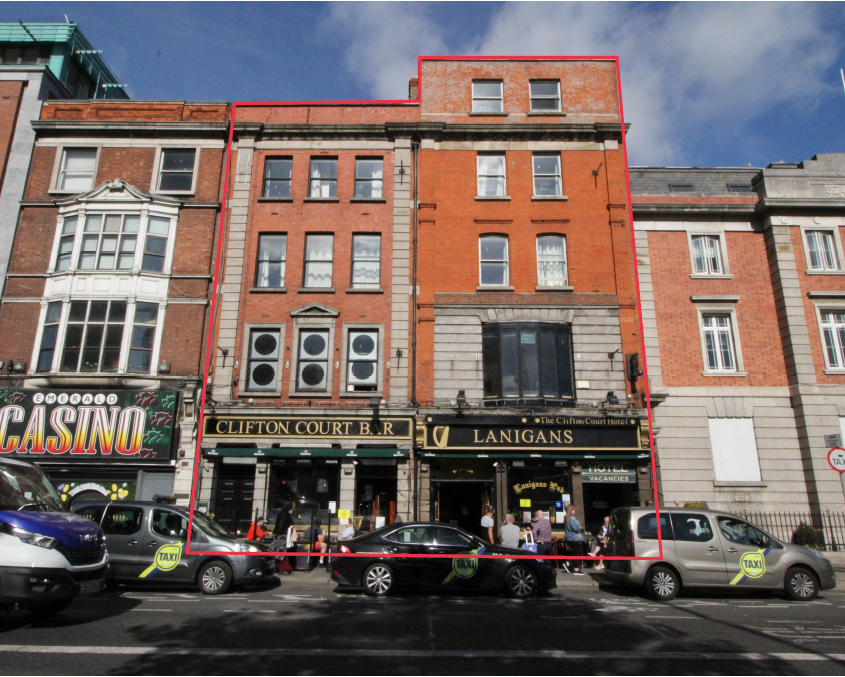 At auction, we are guiding an excess of €3,000,000 which will take place on Monday 22nd November at 12pm.
For full details on this property and information on how to bid visit the listing.
10 Harcourt Street & 10/11 Montague Lane, Dublin 2
10 Harcourt Street comprises a four storey over basement, mid terraced, mixed use, Georgian building. To the rear, 10/11 Montague Lane consists a vacant 3 storey warehouse.
The prime Dublin 2 location between Montague Lane and Cuffe Street is just a 5-minute walk to Grafton Street, Ireland's premier retail location, providing café, dining and retail offerings. St Stephen's Green, one of Dublin's most prestigious and sought after locations is a 2-minute walk away. Prominent occupiers in the immediate area include KPMG, Kennedy Wilson, Intercom, Ernst & Young and Maples Group to name but a few.
The Georgian building is mixed-use in nature with the ground floor comprising a vacant café/restaurant unit with a kitchen to the rear. The basement, also vacant, was previously used as entertainment space and is accessed via stairwell from ground floor level. The 1st & 2nd floors are currently occupied and in office use. The third floor comprises a two-bedroom apartment. The building extends to approx. 493 Sq.m (5,307 Sq.ft NIA).
Adjoining 10 Harcourt Street, to the rear, is 10/11 Montague Lane which is a vacant, three storey warehouse building extending to approx. 1,000 sq.m. (10,764 sq.ft. GIA).
10 Harcourt Street provides an investor, developer or owner occupier the opportunity to add additional office accommodation to the rear of the existing period building. Planning permission has been granted for the full demolition of the existing warehouse structure at 10/11 Montague Lane and the construction of a new 3 storey over basement office development extending to 947.2 Sq.m N.I.A. (Ref. No. 4295/18).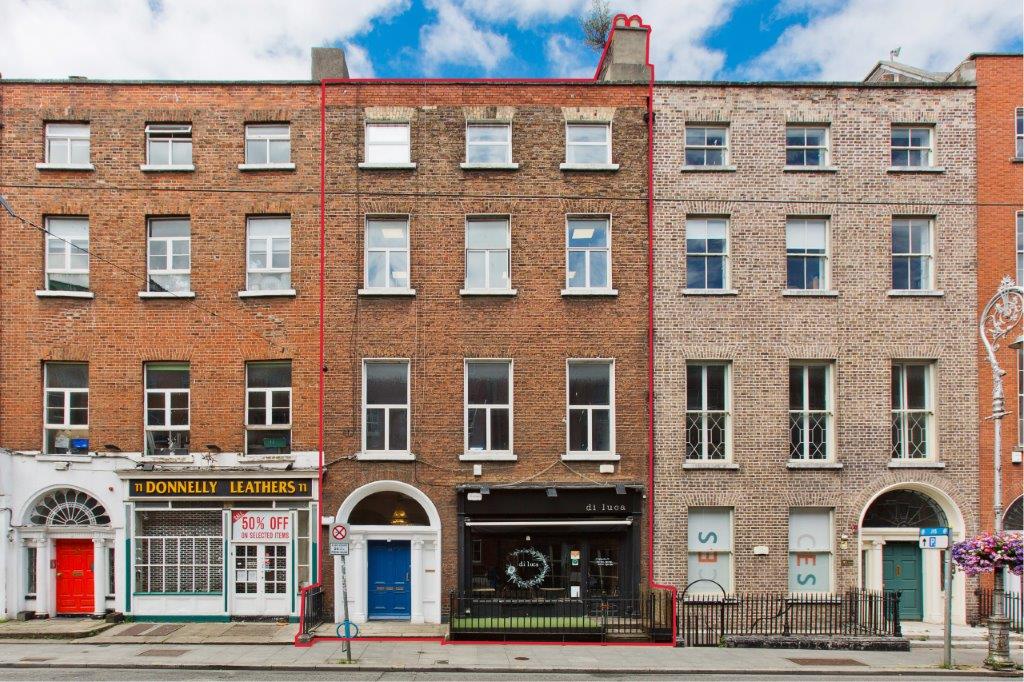 At auction, we are guiding an excess of €2,600,000 which will take place on Monday 22nd November at 2pm.