Prime prices exceed mainstream for first time since pandemic
Prime prices across 46 cities increased at an average rate of 8.2% in the year to June 2021, up from 4.6% in March.
What's happened?
Until now, the pandemic-fuelled house prime boom was most evident in the mainstream market but the prime sector has now surged ahead.
The mainstream market now lags behind with prices across 150 cities increased by 7.3% on average in the year to Q1 2021 (latest data available).
The Prime Global Cities Index is a valuation-based index tracking the movement in prime residential prices across 45+ cities worldwide using data from our global research network. The index tracks nominal prices in local currency.
Toronto leads this quarter's results recording annual prime price growth of 27%, driven by strong buyer appetite and low inventory levels. Despite a recent raft of cooling measures, the next three rankings are occupied by key Asian cities – Shanghai (21%), Guangzhou (20%) and Seoul (20%). Miami (19%) completes the top five this quarter.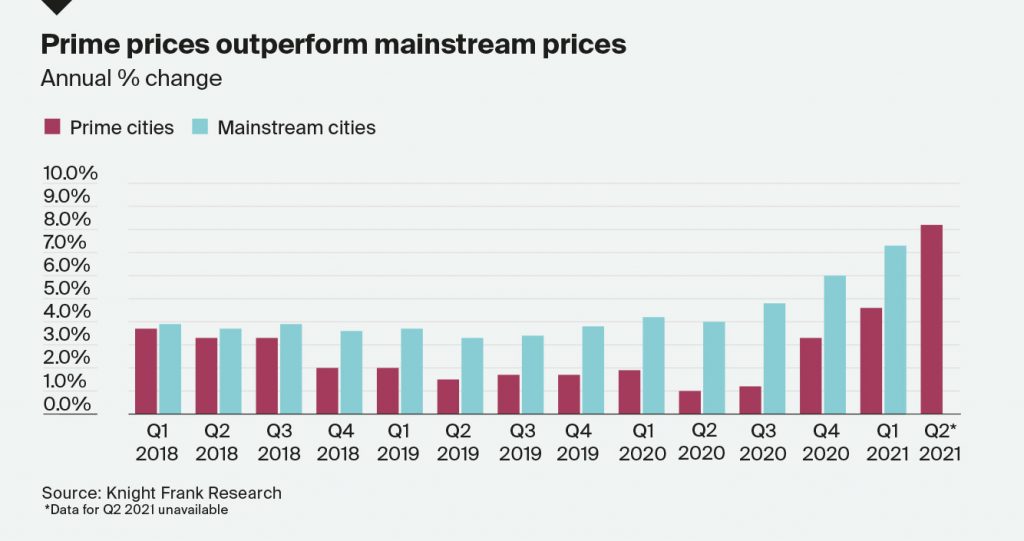 Interestingly, the proportion of cities registering prime price growth has increased only marginally to 76%, instead it's the scale of growth amongst the top-performing cities that is behind the index's acceleration.
Last quarter, the top-performing city recorded annual prime price growth of 19%, three months on four cities exceed this threshold.
Other hotspots include Canadian and US cities which, on average, registered annual price growth of 16% over the 12-month period.
What's driving prices higher?
Housing markets are undergoing the most unusual of recoveries. An easing of travel rules in some markets, a surge in safe haven purchases by domestic buyers, a flurry of activity ahead of the tapering of stamp duty holidays, and an overall reassessment of lifestyles and commuting patterns, all set against a backdrop of low interest rates.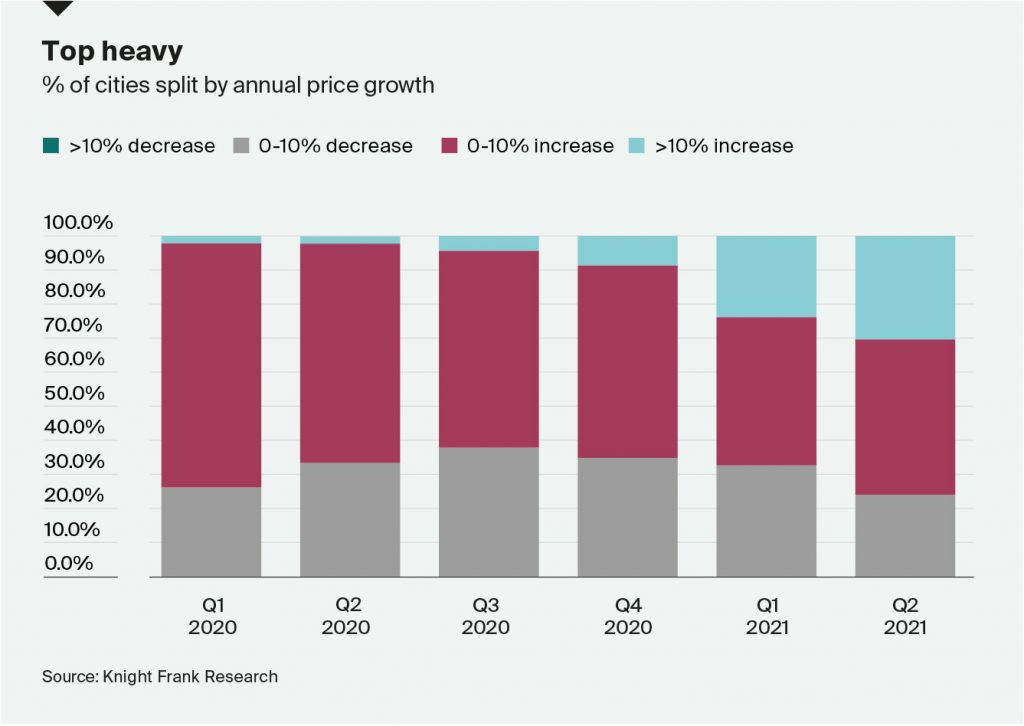 Where next?
Talk of housing bubbles are grabbing headlines worldwide but we expect the prospect of rising interest rates, government intervention and the withdrawal of stimulus measures to rein in the market's exuberance in the second half of 2021.
Expect more cooling measures as policymakers grapple with the affordability conundrum. The Chinese mainland's long debated national property tax now looks more likely.
We expect to see London, New York, Paris and Dubai move up the rankings in Q3 as travel restrictions ease and international buyers start to recognise the relative value in these cities.
Read the Prime Global Cities Index Q2 2021 report here.