Simon Hollywood recently joined the Knight Frank team as a Property Manager within our Property Asset Management division. Simon has 10 years' experience in property management and joins us from Aramark.
We asked Simon to do a little Q&A so you could get to know him a little better.
Q. Tell us a little about your career journey to date
I started my career in Property almost 10 years ago with Duffy Property Services in Dundalk mainly managing residential OMCs. I then made the move into Commercial Management with McConnell Chartered Surveyors in Belfast where I worked for 6 years and achieved my RICS Chartership. Following my time with McConnells I choose to travel to Melbourne Australia with the intention of staying for 6 months, I worked for a Firm called Macutex as a Project Manager and stayed for 9 months deciding to come back once the Covid pandemic hit. Before moving to Knight Frank I worked with Aramark Property as Senior Property Manager on the Irish life Portfolio.
Q: What do you enjoy most about your role as a Property Manager?
I enjoy the diversity of work, the old cliché no two days are the same is so true in the role as a property manager. I get great satisfaction in helping clients to understand and achieve their objectives for their portfolios, whilst also taking a great interest in the assets as if they are my own.
One big change in the role has been the area of sustainability, I have learnt so much about bee keeping which I never thought I would have to.
Q. What's your favourite film/book?
Book – Round Ireland With A Fridge.
Q. Tell us a joke:
What do you call an Irish man that steals your drink? Nic McGuinness
Q. If you had to eat one meal forever what would it be?
Chicken Meal from Dolce Vita in Newry
Q: How do you spend your spare time?
Just bought my first house so cleaning. I also play football.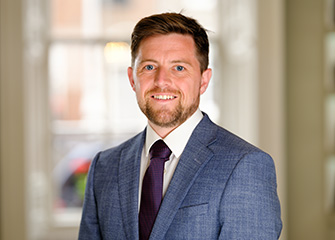 Q. Do you follow any sports, if so who are 'your' team?
Liverpool and anyone Sligo are playing just to annoy my colleague Ian Bourke
Q. Share a fun fact about you?
I once was a child model for Dunnes Stores
Q. What was the most unusual or interesting job you had?
I was a Home Delivery Driver for Iceland Food Stores
Q. 3 words to describe your first impressions of Knight Frank?
Welcoming, Professional, Inspiring
Simon Hollywood is a Property & Asset Manager within our Property Asset Management division.