Daniel Foreau has recently joined the Knight Frank team as a Surveyor in the Valuations & Advisory department.
We asked Daniel to do a little Q&A so you could get to know him a little better.
Tell us a little about your career journey to date:
I attended DIT and studied Property Economics from 2014 – 2018. I completed an internship with Sigma Retail Partners from January 2017 – September 2017. Following graduation I joined Cushman & Wakefield as a Graduate Surveyor. I worked one year in both the Valuations & Capital Markets Departments and then joined CBRE, working within their Commercial Rates department before joining Knight Frank.
Why did you decide to get in to property?
My mum is an architect and my parents have always been involved in property so I had a keen interest from a young age.
What do you enjoy most about your role?
Valuations is stable; there's always valuations to be done, and you're always working on a diverse range of projects and properties, of all different shapes and sizes.
What's the most unusual or interesting job you had?
Bartender at the Intercontinental Hotel (formerly the Four Seasons) – Between the 17 hour shifts and the things you see and hear, it was definitely an experience.
Tell us a joke?
What's a mortgage broker? A real estate agent without the sense of humour.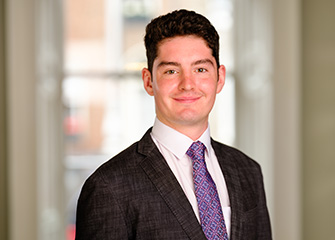 You are having a dinner with 3 famous people, who would you invite?
How do you spend your spare time?
Do you follow any sports, if so who are 'your' team?
What's your favourite film/book?
If you had to eat one meal forever what would it be?
If you could learn to do anything, what would it be?
Share a fun fact about you?
3 words to describe your first impressions of Knight Frank?
Ronan O'Gara, Tommy Tiernan & Ryan Reynolds
On the rugby pitch with Railway Union or down in Wicklow with family.
Rugby mainly, support Leinster and Racing 92
12 Rules for Life – Jordan Peterson
Bujo Burger with Bacon Cheese Fries
Musical Instrument or learn another language
I am half French / half Irish, hence the surname.
Welcoming, Professional, Connected
Daniel Foreau is a Surveyor within our Valuation and Advisory Department. Click below to contact Daniel;