Record year predicted for global cross-border real estate investment in 2022
US, UK, Germany, France, and the Netherlands are forecast to be top destinations for cross border real estate investment in 2022
Overall investment volumes into EMEA forecast to increase by 50% and circa one third in APAC
US, Canada, UK, and Germany predicted to be largest deployers of cross border capital in 2022, led by investment managers, institutions, and private equity investors
Office sector set for bumper year accounting for more than half of cross-border investment volumes in 2022, underpinned by demand from income-focused investors
Continued growth in residential and industrial investment with logistics to be the choice sector of investment managers and private equity
New research shows a positive premium on sales price for green-rated office buildings in London, Melbourne, and Sydney
London, Shanghai, New York, Paris, and Washington DC are the world's greenest cities for real estate3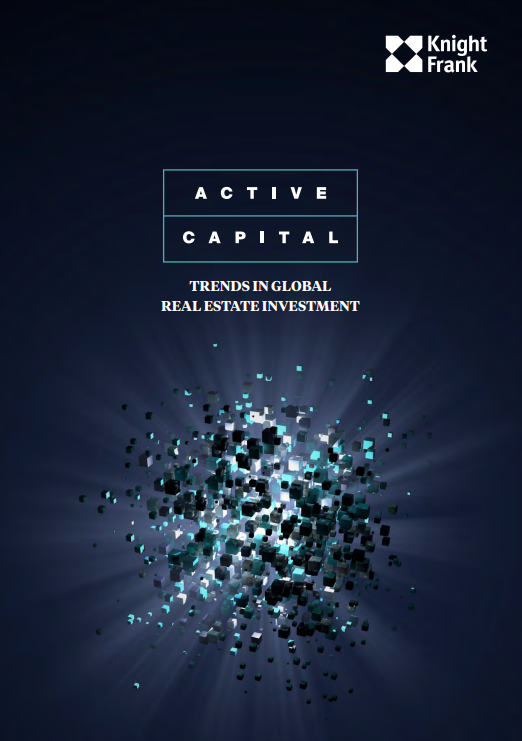 Cross-border real estate investment will reach record levels in 2022, according to new research from Knight Frank.
The 2021 Active Capital Report, now in its sixth year, uses data and proprietary modelling to predict global real estate investment trends for the year ahead. For the first time, the capital gravity research model uses cutting-edge machine learning to identify country-by-country capital flows, type of investors behind the capital and the key sectors within different destination countries. In 2020, Knight Frank's Active Capital research accurately predicted that the US would be the top destination for global cross-border real estate capital in 2021, followed by the UK, Germany, Australia, and France.
This year's Active Capital research suggests a resurgence of investment flows into real estate, hitting record pre-pandemic levels into key sectors including offices, logistics and residential, signalling a marked return of investor confidence.
The US, UK, Germany, France and the Netherlands are forecast to be the top destinations for cross border real estate investment in 2022, with the US, Canada, UK, and Germany predicted to be largest deployers of cross border capital in 2022, led by investment managers, institutions and private equity investors
The office sector tipped to be the focus of more than half of all major cross-border transactions.
Residential is forecast to be the second most invested sector in 2022. Sources of capital are likely to be broad based, targeting a geographically diverse area, including the US, Germany, the UK, the Netherlands, and Japan.
Investment managers and private equity funds, particularly from the US and Canada, are forecast to remain major players in the industrials market in 2022, also targeting a diverse range of locations including the US, the UK, Germany, France and the Netherlands, as well as Spain, Poland and Australia.
Neil Brookes, Head of Global Capital Markets at Knight Frank, commented: "The results from this year's report are a welcome sign of the continuing recovery in the global capital markets and a resurgence of global cross-border investment into real estate.
"Indeed, as the world moves into the next phase of living with the pandemic, we could see a roaring 20s effect for real estate in 2022.
"Thanks to the latest machine learning modelling, this year we have a much deeper dive on the likely trends emerging on where and what sectors capital will be invested in the year ahead. As such, it provides a timely and actionable set of insights to help investors navigate the post-pandemic global real estate market, allowing them to stay one step ahead."
The green-building effect on sales prices
Using price modelling tools, Knight Frank has for the first time, identified the contribution to sales price that is uniquely from a building's green rating. The results found that prime Central London office buildings with a BREEAM1 Excellent rating enjoy a 10.5% premium on sales price compared to equivalent unrated buildings, while those with a BREEAM Very Good rating enjoy a 10.1% premium. Prime office buildings in Melbourne and Sydney with a NABERS2 rating of 5+ enjoy a 17.9% premium on sales price compared to equivalent unrated buildings, while those with a lower NABERS rating enjoy an 8.3% premium.
World's greenest cities
Knight Frank's research3 has identified London, Shanghai, New York, Paris and Washington DC as the world's top five green-rated cities for real estate. Cities were measured on a range of factors, such as well-developed public transport networks, urban green space, and a high number of green-rated buildings. Notably, these top five cities also have universities which are benchmarked against UN Sustainable Development Goal 11, which measures the strength of research into sustainable cities and communities.
Yet, while these cities are making strides in supporting carbon reduction (at least on a relative per person basis), none are immune to climate risks. None of the 286 global cities surveyed scored much above 6 out of ten for resilience against climate risks such as extreme weather events.
Victoria Ormond, CFA; Partner, Capital Markets Research at Knight Frank, added: "We are rapidly seeing sustainability and ESG drive institutional real estate investment strategies.
"For the first time, we have also been able to identify the price premium on the highest-rated green buildings across hemispheres. This is a strong signal that demand for green buildings is an international phenomenon and one that is likely to grow in significance.
"The research has shown that whilst the world's cities are making strides in supporting carbon reduction, none are immune to climate risks. Investors, almost universally, need to be accounting for the risks of increased weather events and broader climate risk in the future."
Anthony Duggan, Chief Strategy Officer and Head of Global Capital Markets Research at Knight Frank, said: "Unsurprisingly, this year's theme for Active Capital is ESG. Real estate has a critical part to play in the climate emergency and this is having significant ramifications across every element of our marketplace. As such, our report delves into understanding these trends and their implications. Our analysis of the price premium on green-rated buildings should help the sector to take a big step forward in quantifying ESG investment decisions and further ingraining sustainability into real estate strategies."
BREEAM is one of the most recognised international sustainability assessment methods for master-planning projects, infrastructure and buildings. It recognises and reflects the value in higher performing assets across the built environment lifecycle, from new construction to in-use and refurbishments.
NABERS measures the energy efficiency of a building by comparing its energy consumption to averages across the sector.
Knight Frank's Sustainably Led Cities research is based on 500 variables across 286 global cities. The green cities are scored on factors including metro strength, numbers of commercial green rated buildings, green space and UN SDG 11 benchmarked universities.