Dublin Office Market Q4 2018 Summary
Ireland was the fastest growing economy in Europe for a fifth consecutive year in 2018, expanding by an estimated 6.8%.
Take-up reached 3.9 million sq ft in 2018 – the highest level ever.
Prime Grade-A rents remained unchanged in 2018 at €62.50 psf
Prime yields remained stable at 4.00% throughout 2018.
2.0 million sq ft of office space was completed in 2018 with 2.2
million sq ft projected for 2019.
REVIEW AND OUTLOOK 2019
Facebook's 870,000 sq ft mega deal at Ballsbridge drives annual take-up to the highest level ever achieved.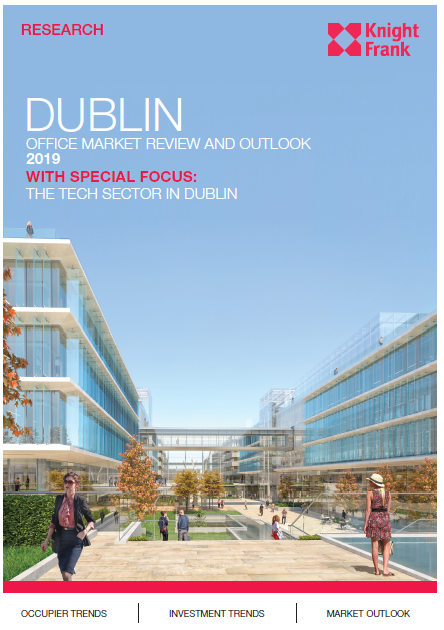 Economy
According to the European Commission's Winter Economic Forecast, the Irish economy is estimated to have expanded by 6.8% in 2018 making it the fastest growing economy in Europe for a fifth consecutive year. This robust performance saw the unemployment rate continue its downward trajectory, falling to 5.7% at the end of 2018, down from 6.2% the year previous. Looking ahead, economic activity is anticipated to advance at a relatively solid pace in 2019, with the European Commission
projecting that the economy will grow by 4.1% this year.
While this growth outlook is heavily contingent upon a soft Brexit, Ireland is currently forecast to be the second fastest growing economy in Europe along with Slovakia – with Malta occupying the top spot. Additionally – in what will be positive news for the office market – the Central Bank is also suggesting that the labour market recovery is far from complete, forecasting that 50,000 jobs will be created this year.
Occupier Market
Occupier activity expanded for a sixth consecutive year in 2018 establishing a new record for the highest level of letting activity ever recorded in the Dublin office market as 3.9 million sq ft transacted. This represents an 8% increase in comparison to the 3.6 million sq ft that was let in 2017.
Prime rents remained stable throughout the year at €62.50 psf while the vacancy rate contracted to 6.2%, down from 6.8% a year previously.
Click to read the Dublin Office Market Overview Q4 2018 in full.