Dublin Office Market Q4 2019 Summary:
Although down on 2018, 2019 saw take-up in the Dublin office market reach its third highest level ever.
Summary
Ireland was the fastest growing economy in Europe for a sixth consecutive year in 2019.
Take-up reached 3.3 million sq ft in 2019 – the third highest level ever.
Prime Grade-A rents remained unchanged in 2019 at €62.50 psf
1.5 million sq ft of office space was completed in 2019 with 2.9 million sq ft projected for 2020.
€3.0 billion worth of office assets were sold in Dublin in 2019, setting a new record for investor activity.
Overview: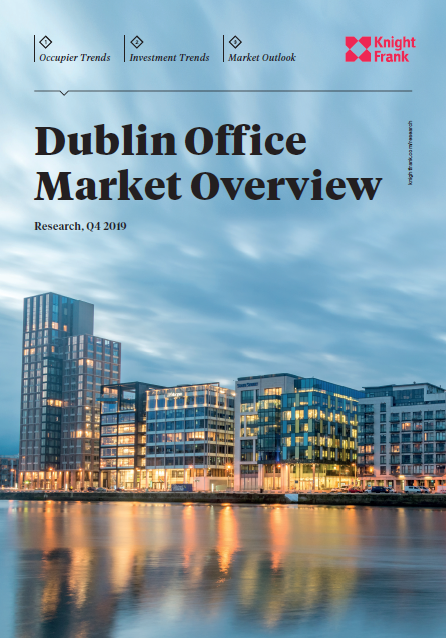 ECONOMY
Despite significant headwinds – including heightened Brexit uncertainty – economic growth expanded by 5.5% in 2019 according to the CSO. Making Ireland the fastest growing economy in Europe for a sixth consecutive year. Employment in Ireland grew by 3.5% in 2019 as 79,900 new jobs were created according to the CSO. This is the highest level this cycle, but well below the highest on record of 107,200 jobs which were created way back in 1997.
Employment grew across 13 of the 14 economic sectors – 'Wholesale and Retail trade' being the only exception. Growth is highest in the 'Information and Communication' sector, which expanded by 10.7%. Thus reflecting the strength of the tech sector. Jobs growth in Dublin stood at 23,700 giving it a share of 30%, the lowest this cycle and below the five-year average of 41%. This may reflect capacity constraints in the office and housing markets in the capital. Looking ahead to 2020, the outlook remains strong with the Central Bank of Ireland forecasting GDP growth of 4.8%. This will underwrite further job creation, with 42,000 new roles expected. We have seen estimates consistently out-perform forecasts over the last number of years and it remains to be seen whether this trend will continue.
In terms of investor activity, subdued inflation across the EU has pushed the ECB towards a more accommodative monetary policy, pledging to hold interest rates at their present levels and reactivating their asset purchase programme at €20 billion a month. While a number of risks remain to both the domestic and global economy, this accommodative monetary policy will act as a support for Dublin office investment.
Click to read the Dublin Office Market Q4 2019 report in full.