Knight Frank Dublin Office Market Q3 2021 – Research Update
Overall economic conditions are very favourable for the office sector, particularly employment growth, with Dublin 2 leading the recovery in demand.
As a gradual return to the office gets underway, many companies are expected to seek different and new space that will better suit the higher specifications and amenities required for the office model of the future.
All expectations about the pace of recovery in the Irish economy have been exceeded, with GDP growth now expected to be over 15% for the year as whole.
With this level of growth has come an increase in employment, with the Central Bank indicating that it expects 160,000 jobs to be created by 2023. While employment growth has been slower to recover in the sectors which have been worse affected by Covid-19, such as hospitality and retail, it has been stronger than pre-pandemic levels in the high value adding sectors of ICT and industry which remain the two highest value adding sectors of the overall economy. Job creation in the professional services sector has also already gathered pace in 2021.
Employment growth along with the gradual easing of restrictions has provided companies with a pathway back to the office and cause to consider their future occupational strategies which has translated into a marked improvement in activity in Q3.
436,000 sq ft of space transacted in the quarter – more than double the 196,000 sq ft that transacted during the first half of 2021. Demand for space in Dublin 2 is leading the office market recovery and we forecast that between 60% – 75% of total space that will be let in the market in 2021, will be located in Dublin 2.
Inflationary pressures and pipeline delivery delays remain key challenges in the market and are likely to feed into upward pressure on prime rents in the first half of 2022.
The delayed pace of a return to the office may act as a drag on decision making in Q4 and could delay some decisions into 2022. Overall, however, we expect office market take-up to reach 1.5m sq ft for the year as a whole, in line with 2020.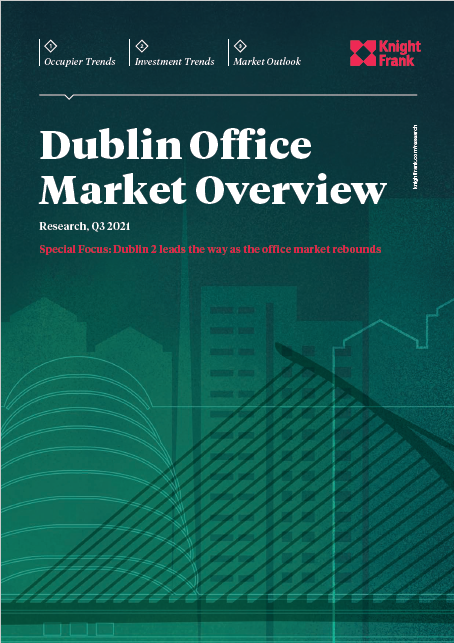 Contact our Office Agency Team or Tenant Representation Team to discuss the findings of the Dublin Office Market Q3 2021 report in more detail.