Investment Market Update Q2 2021: Focus on The Rise of Sustainable Assets in the Dublin Office Market.
Gaining access to sustainably accredited real estate assets is increasingly becoming an essential part of securing long term returns. The Dublin office market is well positioned to take advantage of this important global trend.
Despite the persistence of Covid-19 restrictions throughout the second quarter of 2021, the investment market performed very well with €1.45 billion transacting. This brought investor spend for the first half of the year to €2.76 billion which is not far behind the €3.02 billion that transacted in 2020 as a whole.
Residential assets accounted for 49% of the total in Q2, with the largest transaction Union Investment's purchase of 435 units at Royal Canal Park, Dublin 15 for €200 million in what was the first forward fund to complete in the market.
Industrial assets accounted for the next highest share of the investment spend (22%). Among the most notable industrial transactions to occur in Q2 was the sale of the Liffey Business Campus in Co. Kildare to Stoneweg for €95 million.
Office assets comprised 21% of the investment spend. A significant weight of capital continues to chase prime opportunities in Dublin as evidenced by the purchase of Riverside IV for €164 million by Deka Immobilien and this trend is expected to intensify in the second half of the year.
Knight Frank's forecast for total investment spend has been revised upwards to €3.5 – €4 billion for 2021 as a whole.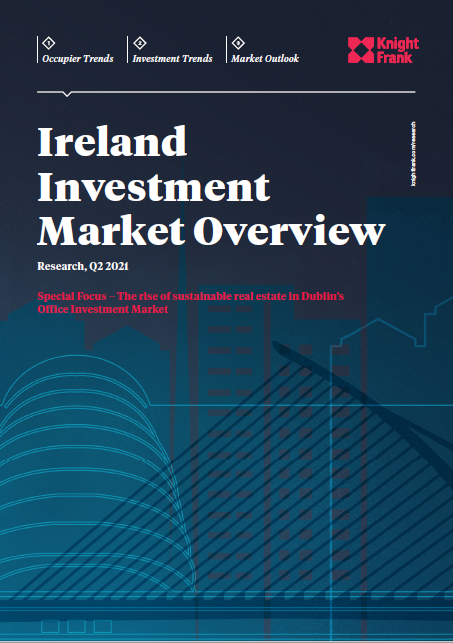 Knight Frank have carried out an analysis of forty-four sustainably accredited office buildings completed in the city centre since 2015, with LEED certification being the measure of choice in the Irish market. Sixteen have LEED Platinum, many of which are clustered close together, twenty-five have LEED Gold and three are BREEAM certified. Looking at the space under construction in the city centre, 50% is targeting LEED Platinum.
Investor and occupier demand for these buildings, some of which are already pre-let, is expected to come to the fore as the economy and businesses move forward with location and investment decisions in 2021 and 2022.
Joan Henry, Chief Economist & Head of Research, Knight Frank Ireland
To read the Investment Market Update Q2 2021 in full click the link below;