Investment Market Update Q3 2021: Focus on The Dublin Industrial Property Market.
Spend on PRS assets continued to dominate the market in Q3.
While total spend of €793 million in the quarter did not exceed the €1 billion level, as it did in both Q1 and Q2, it is expected to do so in Q4, bringing total investment spend to in excess of €4.5 billion for the year as a whole.
Ireland continues to benefit as global, European and the domestic economy navigate their way out of lockdowns and into what will become the next phase of the recovery.
Investor interest in Irish property is underpinned by the level of investment already made in key sectors such as offices and retail (in particular prime high street and prime shopping centres), which itself is underpinned by multiple factors, including the structure of the economy, high value employers and membership of the EU.
2021 is set to be the year where investors have deepened their portfolios further into PRS assets availing of income opportunities against a backdrop of a growing population, a shortage of broader housing options and an economy recovering and expanding at a faster pace than had been envisaged at the beginning of 2021.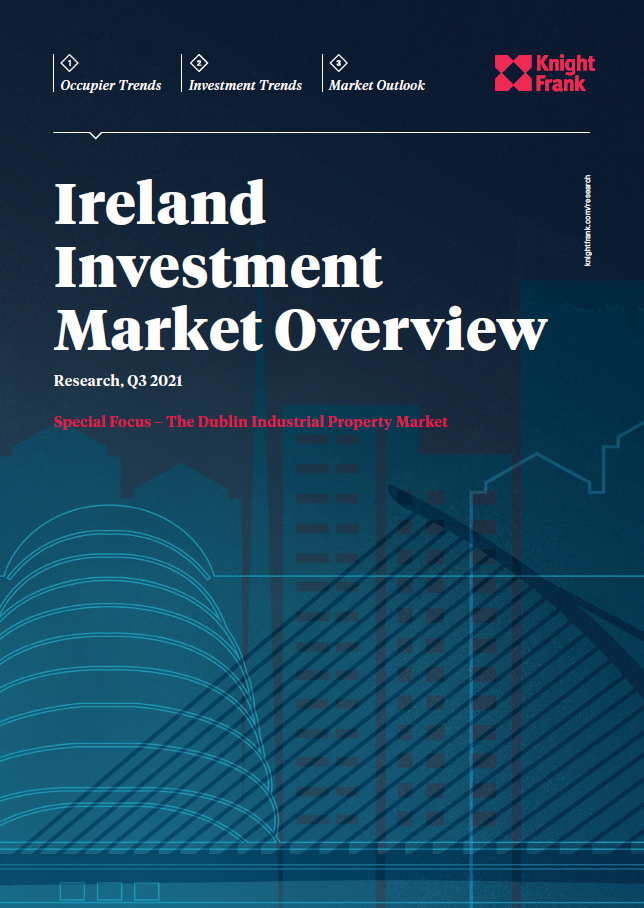 While PRS is leading investor spend at this stage in the cycle, office assets are expected to see an increased share of spend over the coming quarters with large assets such as The Serpentine Building, which is part of Facebook's new campus in Dublin 4, (on the market guiding €395m) and PWC's headquarters in Dublin 1 (on the market for €265m) expected to add €660m to spend on office assets.
As the consumer side of the economy continues to recover at pace, investor interest in retail assets is expected to increase.
Demand for industrial assets is set to intensify further as companies adjust to external supply side shocks and look to the domestic market for solutions. Prime industrial rents have increased by almost 10% over the last year with further upside expected.
Joan Henry, Chief Economist & Head of Research, Knight Frank Ireland
To read the Investment Market Update Q3 2021 in full click the link below;