Irish Housing Market International Investor Report 2021 key findings:
Key Findings:
Ireland has the fastest growing population in the EU since 2014. It also has the youngest population in the world with one third under the age of 25. The population is currently estimated to be almost 5 million. It is forecast to reach 6 million by 2051, growing at a rate of 0.69% per annum.
In order to meet natural demand, an estimated 28,000 – 30,000 house completions are required per annum. The appetite of international investors for housing investment in Ireland combined with normal housing demand means that a shortage of housing stock will remain a challenging feature of the housing market for the foreseeable future, sustaining rents and putting upward pressure on prices.
The housing market is set to remain very active over the coming years. Prices have been consistently increasing on an annual basis and 2020 saw a 2% increase in new units.
Ireland is a small open economy. It's English speaking and offers a highly educated workforce. Making it successful in attracting Foreign Direct Investment with Dublin home to the European head-quarters of many multinational companies such as Google, Facebook, LinkedIn, Twitter, Amazon and Microsoft to name just a few.
Irish GDP grew by 3.4% in 2020 with expectations that it will increase by 3.6% plus, increasing to over 4% in 2022.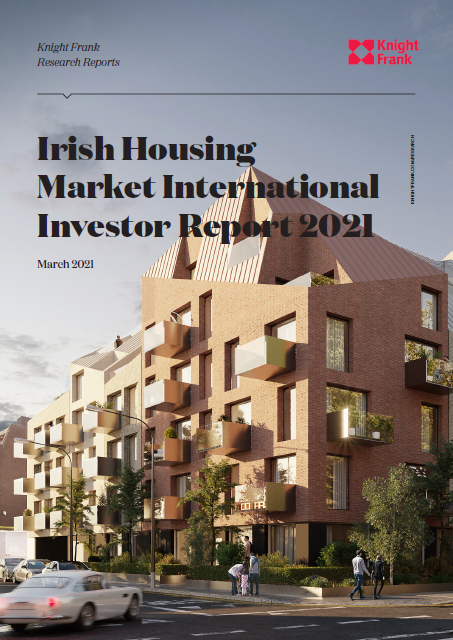 To discuss the Irish Housing Market International Investor Report 2021 in further detail please contact our Research team, our Residential Team or our New Homes Team.